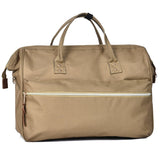 The Brooklyn Duffel
SKU: 2902a
Whether you're off to the gym or packing for a weekend get away, the Brooklyn Duffel bag by Mad Man is perfect to hold all your necessities. Its urban design keeps it on trend. Large front zipper pouch is perfect for packing those items you need fast and easy access to such as your cellphone or passport.
Sturdy dual handles and removable adjustable shoulder strap included. Interior pockets help to keep all of your things in place, where they should be. 
Material: Polyester
Dimensions: 44" x 34" x 20"