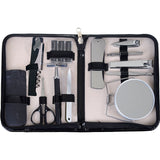 Mr. On the Move Grooming Kit
SKU: 3788a
Unlike most women who require a small suitcase for their toiletries, a traveling man needs only a few essentials to be happy. Full Zipper Closure. One Side includes: Comb, Nail Tools, and Mirror. The other side includes: Lint Brush, Bottle Opener, and Shaver.
Material: Vegan Leather | Polyester Lining
Dimensions: 7" x 5" x 1"
12 Piece Profit Pak Display Assortment contains 6 black and 6 brown