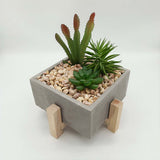 Men's Concrete Desk Planter
SKU: 3669
A modern and contemporary design on a classic planter. This beautiful concrete planter will fit perfectly in any home, living room or office. Faux succulents & rocks included. Wood holder for planter adds unique texture to any landscape. Made of durable concrete with a smooth finish and none surface marking qualities. A great and multi functional gift. Mad Man, masters of men's gifts.
Material: Concrete/Wood
Dimensions: 7.5" x 7.5" x 3.25"
⚠ WARNING