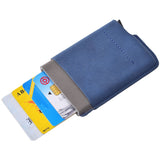 Card Blocker RFID Auto Wallet
SKU: 2930a
Today your privacy is more important than ever which is why Mad Man designed the Card Blocker RFID Auto Wallet. It combines sleek and modern style with the protection you need to keep your info safe! Instant POP out button releases your cards quickly and easily. Slim design that perfect for your pocket. Mad Man, masters of men's gifts.
Material: Man Made Leather.
Dimensions: 4.25" x 2.75" x .25"
⚠ WARNING