---
SAVE 10% ON OUR GAME PAK ASSORTMENT

"These games fly off the shelf. I can't keep them in stock!""
- Dianna from West Chester, PA
July 11, 2021

MAD MAN
GAME PAK ASSORTMENT

GET YOUR HEAD OUT OF YOUR APPS!
Our Mad Man Game Pak Assortment is the ultimate in FUN! We've carefully curated a profitable and diverse assortment of our top selling desktop games sure to bring BIG FUN and BIG SALES to your store this holiday season.
Game Pak Assortment Includes:
DESKTOP AIR HOCKEY GAME - Qty 2

TABLETOP MAGNETIC DART BOARD - Qty 2

SHUT THE BOX GAME - Qty 2

WOODEN TOWER GAME - Qty 2

BLACK WATERPROOF CARD DECK - Qty 4

REG $194.00 / SALE $174.60
GAME PAK ASSORTMENT INCLUDES
QTY 2
The Desktop Air Hockey game is an ideal size for the office or an apartment. It's large enough to provide a challenge against your opponent, but small enough to store out of sight once the game is finished. Conveniently store under a bed or up on a shelf when the game is over. Small in size - but big in fun! Adult and kid friendly.
Features: battery operated air motor to create realistic action, easy puck return for continuous play, includes 2 shooter handles and pucks.


Material: Wood/Acrylic

Dimensions: 18" x 4" x 14"

MSRP $49.99
TABLETOP MAGNETIC DART BOARD

QTY 2
This magnetic desktop dartboard is the perfect gift to take away those afternoon doldrums. Set up this dartboard in a few minutes. Sturdy Construction. Perfect for every man in your life.
Material: Alloy

Dimensions: 6.8" x 17" x 6.8"

MSRP $49.99
QTY 2
Who doesn't love a good game? This interactive and entertaining game is perfect for any age group! Multi-age, multiplayer interactive game. Includes game board, dice, and instructions.
Material: Wood

Dimensions: 8.385" x 8.385" x 1.17"

MSRP $39.99
QTY 2
Enjoy the classic tower stacking game suitable for up to 4 players! Simple, solid, and timeless strategy game. To set up the Tower place three blocks per layer crosswise. Includes 48 hardwood blocks for 16 layers.
Material: Wood

Dimensions: 14" x 8"

MSRP $29.99
BLACK WATERPROOF CARD DECK

QTY 4
The Mad Man Black Edition Card Deck is made of high grade plastic material providing an extremely smooth hand feel. This deck is durable, waterproof and environmentally friendly. Perfect gift for all who loves playing poker & card games.
Material: Plastic

Dimensions: 2.5" x 3.5"

MSRP $16.99
---
MAD MAN
GAME PAK ASSORTMENT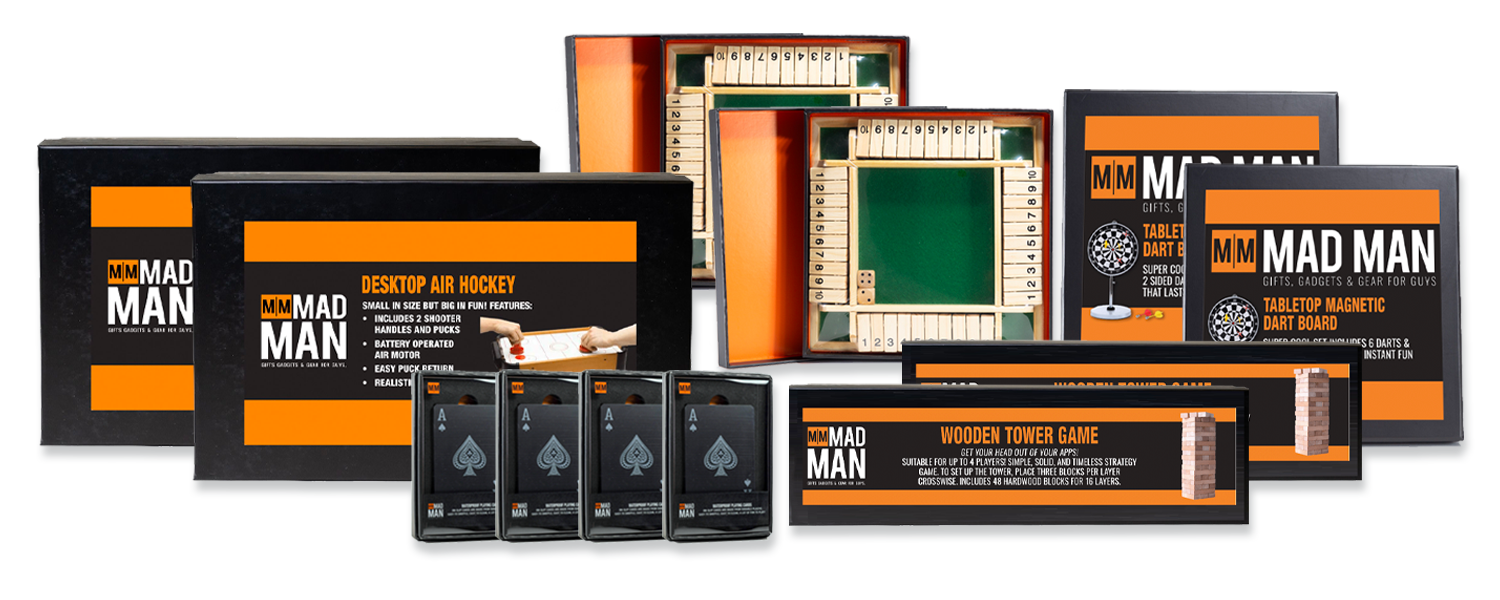 REG $194.00 / SALE $174.60 / RETAIL VALUE $405
---
"I absolutely love everything about this company!! Prices, Quality & Shipping Speed are all amazing!!"
- Denae from Kingsburg, CA
October 12th, 2021
"We are always looking for men's stuff, this line has a lot of great full in items. Good quality and price points."
- Michelle from Wrens, GA
June 2nd, 2021
"Always enjoy working with this company! The watches and games are particularly popular with my customers."
- Debbie from Salinas, CA
May 27th, 2021
REGISTER AS A RETAILER
If you buy for a retail business, click here to register!
CUSTOMER SUPPORT
Have questions? Click here to contact customer service.