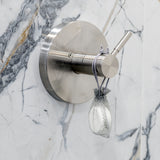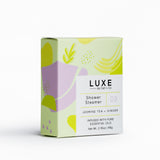 Jasmine Tea + Ginger Shower Steamer
SKU: SHOWJTG
Not a bath person? We have you covered with our Jasmine Tea + Ginger Shower Steamer
, made in the USA with plant-based ingredients!
Transform your shower into a one-of-a-kind aromatherapy experience that will leave you feeling refreshed and reset. Each shower steamer is made with love in the USA and infused with essential oils, so breathe in deep - your body, mind, and soul will thank you!

How To Use: Simply wet your shower steamer and hang your sachet anywhere outside of the direct stream of water. Enjoy the spa-like aromatherapy experience!

Lasts for approximately 2-3 showers. Includes mesh bag.

Ingredients: Baking Soda, Citric Acid, Corn Starch, Fragrance and Essential Oils
Net Wt. 2.35 oz | Made in USA