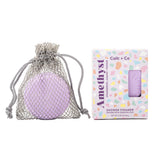 Amethyst - Gem Shower Steamer
SKU: 32399
Smells Like: Strawberries, Jasmine + Peonies

Transform your shower into a one-of-a-kind aromatherapy experience that will leave you feeling refreshed and reset. Each shower steamer is made with love in the USA and infused with essential oils, so breathe in deep - your body, mind, and soul will thank you!
How To Use: First, let your shower get nice and steamy. To activate your aromatherapy experience, unwrap your steamer and place it in your mesh bag. Hold it under the flow of water until thoroughly wet and fizzing. Hang the bag anywhere outside of the direct stream of water.
Lasts for approximately 2-3 showers | Includes mesh bag

Net Wt. 2.35 oz